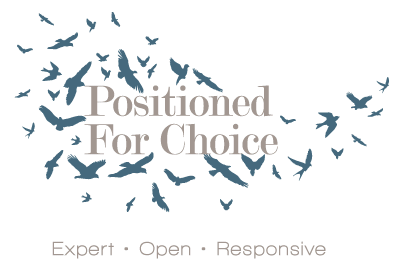 Positioned for Choice is a strategic, tailored and expert coaching and human resources consultancy service, which values:
Supporting and assisting people and teams with humility, generosity and sensitivity;
Creating value for our clients by providing solution choices that are beneficial and economical;
Fostering learning and growth through insightful research and appropriate communication to those who may benefit;
Honesty and integrity;
Facing all issues – especially the difficult ones – head on; and
Maintaining environmentally conscious attitudes and practices.
Being positioned for choice means our clients are provided with a customised range of quality options that put them in the driver's seat when making organisational and personal decisions. We recognise that employing people to achieve results for an organisation is not straightforward. There are many decisions to make in setting up or changing the infrastructure to manage employees and in actually managing them day-to-day. It is important to maintain a good balance between having multiple options from which to decide and allowing for efficient, quality decisions.
Organisational management and change require expert and adaptive strategies. Choice decisions about: selecting and balancing skills and capabilities; the desired culture; actively engaging staff in their work; effective modes of communication; managing individual and team performance; and evaluating potential risks and their implications for the organisation, are key strategies for success.
Our clients are the decision makers and our work positions them to be able to make the best choices in optimising their people and themselves.
We welcome the opportunity to earn your trust and provide invaluable support to you in optimising yourself and the people in your business.